Grilled Cheese Bread is this easy menu. The combination of flavors of crunchy bread Salted with aromatic butter and stuffed cheese inside. which is heated until it is juicy and greasy, very appetizing.
What is Grilled Cheese?
Grilled cheese is a classic American sandwich that has been around since 1920. It is a hot sandwich made with buttered and toasted bread and originally filled with American cheese. But is now commonly made with one or more different cheeses.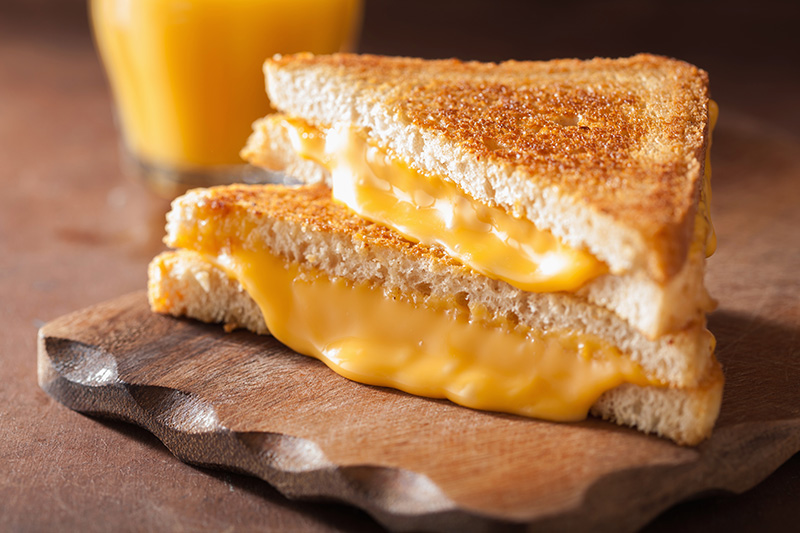 Ingredients.
2 slices of bread slices
1 tbsp fresh butter
Cheese that melts well, such as American cheese, Swiss cheese, cheddar cheese, or Gruyere cheese.
How to make grilled cheese bread
Spread butter 1 on top of both slices of bread.
Place the first slice of bread upside down with the buttered side in the oil-free fryer. Put the cheese on it Cover with another slice of bread (the buttered side is on top). 
Turn on the machine, heat it to 360 degrees Fahrenheit for 3-5 minutes to let the cheese melt. 
Take it out and turn it over and increase the temperature to 380 degrees F, about 5 minutes, or until the outside of the bread is crispy as desired. 
Total energy 310 calories.
Nutrition information, calories, energy and nutrients in 1 piece of cheese toast sandwich has total energy 310 kcal, protein 10 g, carbohydrate 26 g, fat 18 g.